Big Apple Area Airport Workers Take a Stand – 32BJ SEIU.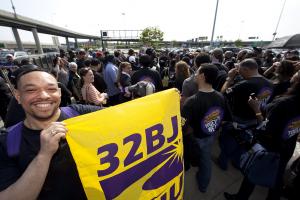 At Newark Liberty International (EWR), John F. Kennedy International (JFK) and LaGuardia (LGA) airports, about 15,000 low-wage subcontracted airport service workers provide crucial services such as cabin cleaning, terminal security, baggage handling, wheelchair assistance, and sky cap services. They work for contractors hired by airlines and terminal operators and they struggle to get by on wages as low as $8.00 per hour with no affordable healthcare and no paid sick days in one of the most expensive cities in the country.
These service positions were once directly filled by airline carriers, and included paid sick days and holidays, vacation and health insurance benefits. In a bid to cut costs, airlines shed those jobs in favor of a race-to-the-bottom system where contractors fill jobs by reducing wages and doing away with employment benefits. These low-wage jobs, where workers may have to fill the gaps with government assistance programs such as food stamps, cash assistance, Section 8 rent support, and Medicaid, are not what New York City and New Jersey need.
The workers are struggling for justice, respect and a voice in their workplaces.